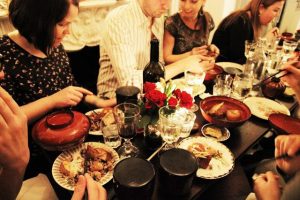 The capital city of London is a fantastic place to eat out, as it boasts a wide range of eateries, ranging from the weird and wonderful to the deliciously decadent. The tour that follows is ideal for people who have a day to explore London and want to enjoy eating as well as sightseeing.
Camden is one of the most vibrant districts of London and this is the perfect place to start your day. There are a good number of cheap and cheerful cafes to be found in Camden Locke market that serve sausage sandwiches, bacon baguettes and similar breakfast treats. After a hearty breakfast, visitors can indulge in a spot of shopping at the market and take a walk along the scenic Camden Locke footpath. Get all the latest racing tips here.
Regent's Park is a great place to eat lunch on a sunny day. Simply pick up a freshly made sandwich from one of the small shops that line Baker Street and pick a spot in the large and lovely park to relax with friends and family.
Visitors to London will want to make sure that they eat lightly at lunchtime so that they have plenty of room left to enjoy the afternoon tea at Claridge's. This is one of the most elegant afternoon tea experiences in London, and is served from 15:00 in the Reading Room and Foyer. Visitors are treated to a selection of sweet and savory treats such as classic scones served with clotted cream as well as their choice of tea from around the world. People who are feeling particularly decadent can opt for the champagne afternoon tea, which includes a glass of perfectly chilled champagne.
When it comes to dining in the evening, the options are almost limitless; however, few true food lovers could pass up the opportunity to enjoy a Michelin-starred meal. While dining at the Chef's Table at the Berkeley certainly doesn't come cheap, this is a once in a lifetime experience that should not be miss. The food here is cooked to perfection by Marcus Wareing, who is the former protégé of celebrity chef Gordon Ramsey.