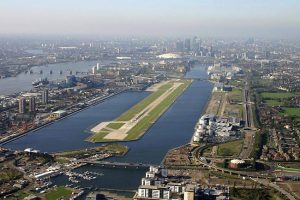 London City Airport is the essence of time, speed and convenience, located only 6 miles from the City of London and three miles from Canary Wharf. It provides an excellent business link to London. Flights to destinations in the European Union include Frankfurt and Amsterdam, as well as many major UK capitals. Follow all the Live football scores here.
There is just one terminal at the airport. Facilities include a bank, a bureau de change and several ATMs. There is also a left luggage and lost property service, as well as a postbox. A wide selection of items including magazines, newspapers, books, pharmaceuticals, electronics, tourist gifts and confectionery are available at World News, situated on the ground floor in the terminal building.
The airport has several types of restaurant with differing atmospheres and menus to suit different moods. The Meridian Line Restaurant, Tapas Bar and Coffee Corner as well as Bewley's Coffee shop and specialty store are among the choices.
Business travelers will find the Meridian Business Center positioned on the first floor, with facilities for up to 80 people, with secretarial support, fax, photocopying, internet access, catering and private dining facilities.
The terminal is fully accessible to those with disabilities. Aircraft boarding assistance is available for disabled travelers, who should advise the airline in advance. Further provisions include shuttle buses offering dedicated services to disabled passengers and designated car parking spaces for disabled drivers. Any further queries should be directed to the information desks which are located on the left by the entrance to the terminal.
Airport shuttle buses link to underground stations and the Docklands Light Railway (DLR). The Green Bus operates between Canning Town and airport every five minutes from 06:00-22:00 Monday-Friday, 06:00-13:00 Saturday and 10:00-22:00 Sunday (journey time: approximately five minutes). The Blue Bus operates between the airport and Liverpool Street via Canary Wharf (06:15-22:00 Monday-Friday, 06:15-13:10 Saturday and 10:30-22:00 Sunday - journey time: 25 minutes). Bus no. 69 runs to the airport from Walthamstow and North Woolwich, with bus no. 473 operating from Stratford and North Woolwich.